To decrypt files you can use the wizard or a shell application to open east-tec InvisibleSecrets (e.g.: right-click some items in Windows Explorer and select from the Invisible Secrets submenu the Decrypt command).
You have to follow these steps to decrypt file (s):
1. Select the action: Decrypt files
2. Select the files you want to decrypt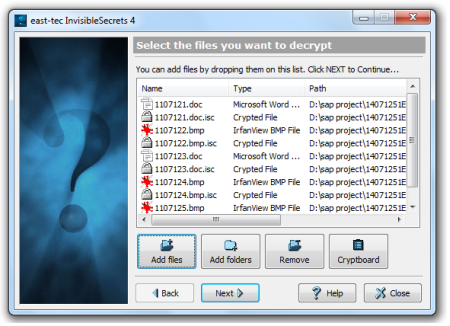 Click the Add files button or press the INSERT key to add files to the list.

Click the Add folders button to folder structures to the list.

Click the Remove button or press the DELETE key to remove files from the list.

Click the Cryptboard button to add files from the Cryptboard to the list.
You can also add files and folders by dragging them from other applications and dropping on the list.
3. Decryption Settings (Password and Algorithm)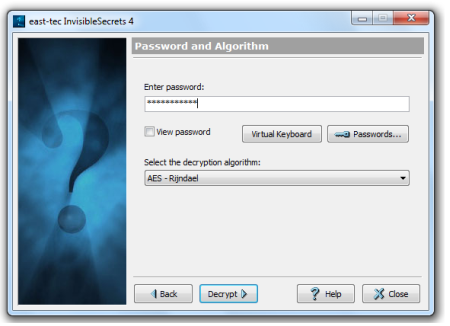 Enter the decryption password. You can click the Passwords button to select one from a Password List. To make the password visible, click the View Password check box.

Select the decryption algorithm from the drop-down list.

The password and algorithm must be the same used in the encryption process.

Click Decrypt to start the process.