Scenario: Online privacy compromised by dangerous Web surfing, chatroom conversations or sensitive traces from popular programs
You have just visited some compromising Web sites. You are aware of the fact that your Web browser has stored text and images from those sites in a special folder for quick viewing later (Internet Explorer's Temporary Internet Files or Mozilla Firefox cache or Google Chrome Cache). To hide your tracks (such as browsing history, index.dat files, cookies, cache, logs, Temporary Internet Files, autocomplete search history) and protect your online privacy, you use the Web browser's option to delete any temporary Internet files (or the cache) stored on your computer.
Do you think you got rid of those compromising files? Think again! They are still on disk! Data recovery tools can easily recover those deleted files! You'd better start thinking: how am I going to explain to my boss (or worse: my wife) why I visited those sites? It is of the utmost importance to thoroughly wipe, overwrite and erase data to ensure secure deletion.
Or you have just used Adobe Photoshop to create brand images you would not like your colleague to know about, or you used Windows Media Player to watch some movies you would want to give explanations about, Microsoft Office to edit some compromising files, etc. No matter what application you used, Windows and the proper application itself keep track of every file you view, download, open, or create.
The solution: Privacy Guard
The Privacy Guard will seek out and destroy (Erase Beyond Recovery) the contents of folders that monitor and track your Internet usage and habits. It will also rid your computer of Windows "hidden" files and other data stored without your knowledge. Furthermore, you may also customize this feature to target specific files or folders that may contain sensitive or embarrassing information.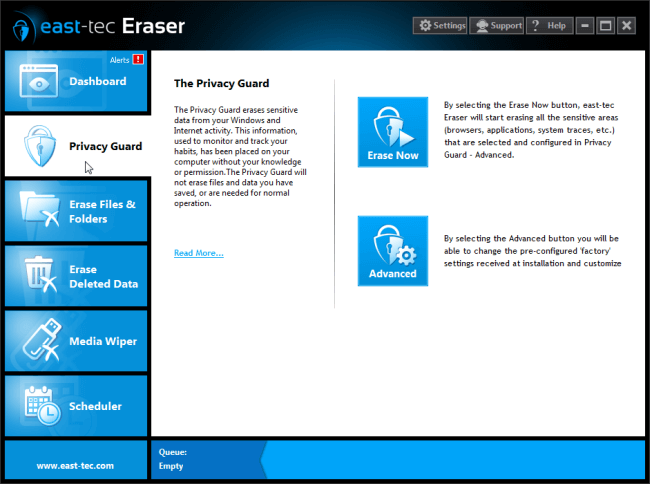 Besides the above, Privacy Guard ensures all your Windows and third party application usage history is erased for good! And it can remove these sensitive traces (such as recent documents history, network cache, Windows registry streams, searches, and much more) from over 300+ most known programs, applications used by people worldwide. Every month, a new version comes out that helps east-tec Eraser recognize and clear tracks in newly released software.