Before starting to sanitize the selected drives using the selected sanitize method and options, east-tec DisposeSecure will open a "safety" screen that warns you that you are about to destroy the data from one or more drives beyond recovery.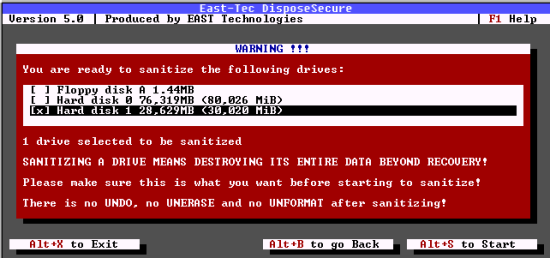 To close this warning screen and start sanitizing the selected drives, press Alt+S. If you do not wish to proceed with the sanitizing process, press Alt+X to cancel and exit the program. You can also return to the previous step by pressing ALT+B.
After you have pressed Alt+S, east-tec DisposeSecure will start a compatibility test with your hard drive, to prevent possible malfunctions. In case the window remains on your screen for a very long time, and the progress bar freezes, please restart your computer, and try choosing a different disk interface. No sanitizations will be lost in this case.
Skip Test will stop the compatibility test, and proceed with the sanitation of your drives. It is possible that errors may appear due to undetected incompatibility. This could cause loss of sanitizations.