Mother's Day is just around the corner so most of us are already busy looking up gift ideas online. As long as we only look, things are less risky. But if you have already found the gift you want to give your Mom in a few days time, stop for a minute before you go to checkout. Let's offer you some best practises for making sure that your financial details do not fall victim to malware you may unintentionally download before, or during purchase.
If you wonder why it is all too easy for your PC to get infected with a new breed of virus, spyware, trojan, and the likes, the answer is easy. Your antivirus only reacts. According to leading Internet security companies, there are hundreds of thousands of new malware that get launched every single day. And by the time your antivirus database gets updated to be able to combat them, you may easily fall victim to one in one of the many possible ways.
This is especially true, if you run Windows XP on your PC. Microsoft has ended its support for the OS recently and the company warns that even your antivirus can't fully protect your data and identity anymore on XP PCs. It is because without the OS itself being updated to guarantee fundamental malware protection, your AV can only do so much to safeguard you.
To guarantee malware protection when shopping online, we would like to recommend you two security practices:
1. To make sure that your sensitive details are not exposed to malware after online transactions, it is advisable to erase all your Internet tracks right after each transaction. The best thing to do is run a Stop Software Recovery Tools wipe with east-tec Eraser after you handled confidential data on e-commerce sites. To do so, run the software and select Privacy Guard>>Advanced. Then select Browsers. Tick the Browser you used for the transaction. Set the slider selector to StopSoftware Recovery Tools. All mentioned areas are circled on the screenshot below. Click Start to start the wiping process.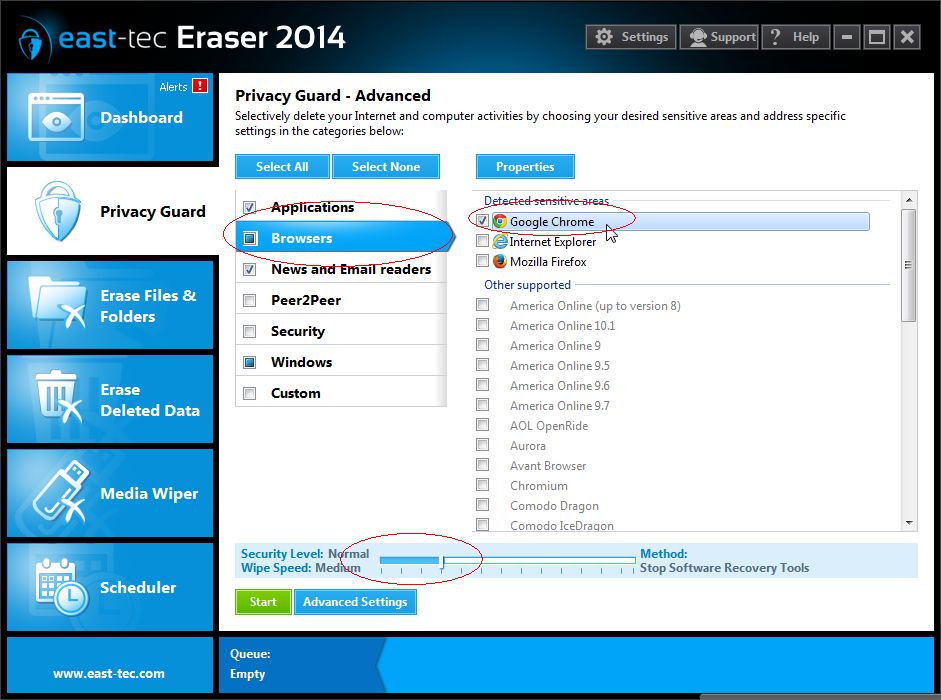 This wipe method guarantees sufficient protection against hacker tools that could mine sensitive traces from your HDD and browser. This way you basically rule out data theft because your system is kept as clean as if it were all new. Otherwise you risk leaving behind confidential data, such as, Internet history, cookies that store credit card, or login details, passwords, cache that logged confidential financial details, emails and so on.
2. Many of us save login details for sites that handle our e-commerce accounts, such as, Amazon, PayPal, etc. However, as long as your passwords are saved in your browser, they are exposed to hacker attacks. Therefore, we recommend you to store and manage all your confidential passwords with east-tec InvisibleSecrets. It saves your passwords in encrypted format and stores them in an uncrackable safe. Another highly secure feature of the software's Password Manager is that it can generate and store unique, complex passwords for each account you use, to avoid using universal passwords. The problem with using the same password across all your accounts is that if hackers manage to crack one of your accounts, they can access all your other accounts, using the same password.
Implement these best practices and have a safe shopping for Mother's Day!