Our lives are more connected to the virtual world in the current digital era. With each click, search, and interaction, we leave behind a data trail known as our digital footprint. It creates a collection of information that reveals insights into our preferences, behaviors, and personal details. Unfortunately, all this data makes us exposed to all the risks related to online privacy violations.
As a result, we should become aware of our digital footprint, and notice the dangerous side of the internet, even if it can be helpful in numerous ways.
See below for the risks of not managing your digital activity and the ways you can use to protect your data and personal safety.
Possible dangers associated with an uncontrolled digital footprint
From browsing the web to shopping online, engaging in social media, doing online banking, or even just sending emails, every action leaves a digital footprint. Over time, this footprint grows, creating a digital profile that can be accessed and analyzed by various entities.
However, privacy invasion is one of the most significant risks related to an uncontrolled footprint. Due to the fast growth of technology driven by a hunger for information and the rise of targeted advertising, our online activities have become highly valuable.
This has led to advertisers, social media platforms, and even hackers eagerly collecting extensive data to create detailed profiles about individuals. This information can be used for personalized marketing, but it also makes us vulnerable to virtual exploitation.
Identity theft is another serious problem that accompanies an unmanaged digital footprint. Our full names, addresses, phone numbers, and financial details are sensitive data that show our online identities. They can be used for scams and frauds, with severe consequences such as financial losses, damaged reputations, and serious mental pain.
For this reason, all these risks should convince individuals to take proactive steps to protect their online privacy. One powerful tool that can assist in this initiative is east-tec Eraser.
How the unwavering protection of East-Tec Eraser can help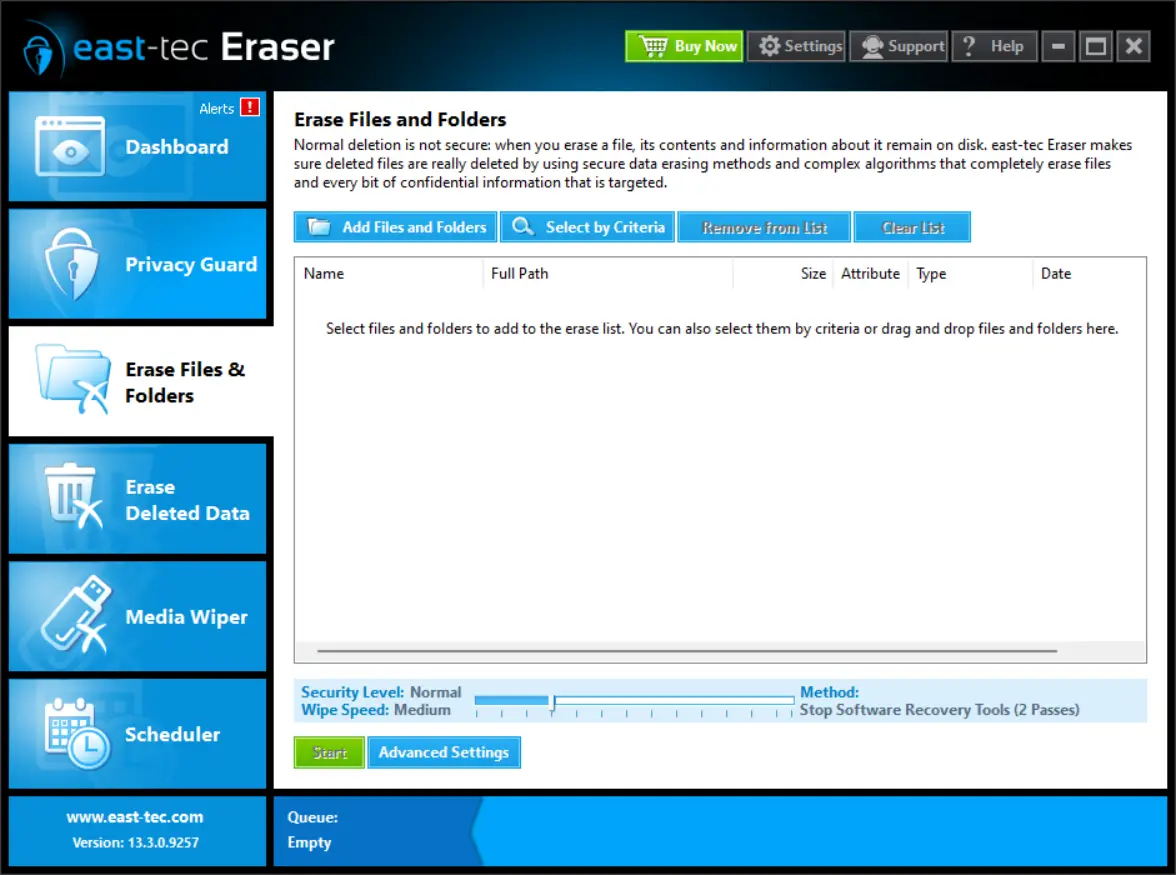 East-Tec Eraser is a complete solution for protecting sensitive information. This privacy protection software helps you permanently delete your Internet and computer activity traces, such as web browsing history, cookies, temporary files, chat conversations, or deleted emails. Furthermore, it helps you clean removable devices, erase unused files, and improve your PC's performance.
Whether you're concerned about targeted advertising, safeguarding your personal information, or preventing identity theft, east-tec Eraser is a powerful tool for individuals seeking to protect their privacy. Besides, it gives you peace of mind knowing that your confidential information remains safe.
The key features of east-tec Eraser
File shredding: East-Tec Eraser can erase files and folders permanently, ensuring that sensitive data cannot be restored or accessed by unauthorized individuals.

Privacy Guard: During the erasing data process, east-tec Eraser checks your computer for privacy dangers and helps you find possible threats to your privacy, letting you get rid of them.

Customizable cleaning options: These options allow you to choose which items to erase, configure cleaning schedules, and set up automatic cleaning tasks, maintaining your privacy without manual intervention.

It works with the most popular web browsers: East-Tec Eraser is compatible with various web browsers including Internet Explorer, Mozilla Firefox, Google Chrome, America Online, MSN Explorer, Opera, and Safari.

Disk Erasure: The software can delete specific partitions or entire hard drives, making sure that all stored data is permanently cleared.

Privacy protection for popular applications: East-tec Eraser includes privacy protection features for popular programs such as Messenger, email, news, player, and P2P programs.
Keep your daily digital activity a secret
To understand clearly why east-tec Eraser is a truly helpful tool in managing your digital activities and ensuring your privacy, take a look at the following examples:
Use east-tec Eraser if you want to:
Delete your browsing history from Google Chrome after visiting some websites that you don't want anyone to know about
Remove the temporary Internet files that are stored on your computer
Delete the Skype chats that have private information and use up space
Delete the data from a USB flash drive that you want to give or sell to someone
In conclusion, it's essential to be aware of your digital footprint in modern times, because in that way you protect your privacy and identity. It's time to take control and ensure that your online activities leave no trace. East-tec Eraser is here to help you safeguard your online privacy and maintain your peace of mind in a world that is more and more connected.
East-Tec Eraser can help you delete all the files and data that store evidence of your computer and Internet activities. It can also boost your PC speed and security by deleting unneeded files.
So don't let your private information get to people who shouldn't have it. Download a free trial of east-tec Eraser from the website to convince yourself how easy and effective it is, or buy it now for enhanced privacy and security features.